My Hair Transplant Clinics-FS Range
My Hair Transplant Clinics-FS Range
The My Hair Transplant Clinic's in-house designed Follicular Stimulation products include a wide range of Topical solutions, shampoos and conditioners that have been subjected to medical studies and testing ensures their ability to regenerate significant hair growth and of course, a significant reduction in hair loss.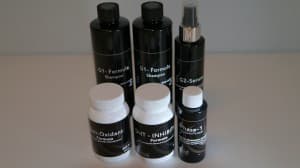 If you are new to hair loss remedies or one of the many people who have tried, tested, and failed with other pharmaceutical and therapeutic hair loss solutions available over the counter, our product range has been developed considering you in mind.
Our in-house designed Phase-1 Hair growth Solution, which has an established track record of treating Male Pattern Baldness, is part of our package and we suggest using it in addition with our special Shampoo, Conditioner and Topical solution hair loss condition. When all the relevant products are used daily in combination with a course of Photo-Diode Therapy, the Patient can notice a massive improvement in the hair growth.
Procyanidin B-2, the active ingredient in our Phase-1 Regrowth Formula, was evaluated in a double-blind placebo-controlled experiment.
We at My Hair Transplant clinics want to get your hair back to its optimum level, with our technical ability we can ensure you are in very safe hands.
Please leave your contact details in the free consultation box and we will be calling you soon.
Free
Consultation
Enter your details and one of our specialists will be in touch with you
Appointment
Book An Appointment