Intense Photo-Diode Therapy
Intense Photo-Diode Therapy
Photo-Diode Therapy is highly recommended by our specialists in order to reduce the level of DHT in the scalp since it effects the hair follicles in a negative manner therefore promoting thinning hair.
It is one of our non-invasive treatments which does not require surgery.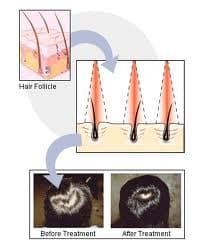 Occasionally, Patients for our Photo-Diode Therapy can require a more rigorous session at times, in which case we will create a custom designed treatment plan tailored for you, your lifestyle, and the state of your hair. The photo diode beams work on 640nm which helps to stimulate the hair glands, increasing blood flow to damaged follicles and dramatically improving their health, enabling them to develop thicker and fuller hair.
Individuals with thin hair will benefit from the therapy because it will regenerate and stimulate their follicles, enabling them to expand and produce more hair and thicken existing hair.
We will observe a daily hair consultation during a session so that you can see the progression of your hair.
My Hair Transplant Clinics guarantee that each one of our patients see the best possible results.
We at My Hair Transplant clinics want to get your hair back to its optimum level, with our technical ability we can ensure you are in very safe hands.
Please leave your contact details in the free consultation box and we will be calling you soon.
Free
Consultation
Enter your details and one of our specialists will be in touch with you
Appointment
Book An Appointment