Hair Loss Treatment For Men
Hair Loss Treatment for Men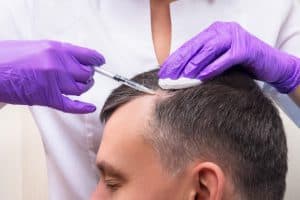 Hair loss affects a significant portion of the global population, with men having a higher ratio. According to statistics, about 50% of all men over the age of 50 are affected by male pattern baldness. Baldness and excessive hair loss may be common, but it still can affect your overall appearance and confidence levels.
However, thanks to the advancement in medical technology re-growing hair is now possible. With the help of different hair transplant procedures, you can re-grow your hair and restore your confidence. Hair Transplant solutions are also used for enhancing the volume of eyebrows, eyelashes and also to cover patches on the beard area.
My Hair Transplant Clinics have created a wide range of treatments for different types of hair loss from thinning hair to complete baldness , we have the Treatments for it all. Our options include invasive and non invasive treatments.
If you are looking to seriously grow your hair back then we at My Hair Transplant Centre can help you. We have treated so many Male Patients over the years.
Preventing male pattern baldness
With advanced technology and innovation, our team of specialist can restore your hair without fail.
Feel Free to contact us to start your journey on hair restoration.
Free
Consultation
Enter your details and one of our specialists will be in touch with you
Appointment
Book An Appointment