Female Photo Diode Therapy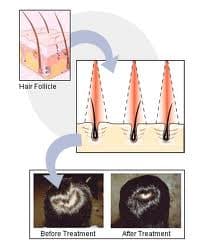 Hair loss could happen to anyone, it effects negatively on the confidence and self-esteem of Individuals, However, it's extremely detrimental to Females . Hair loss for women is surprisingly common, however since Male Patterned Baldness is more widespread and also has a higher profile, it is seen as a less prominent issue.
It can have a substantial influence on psychological well-being if it is not treated. It's important not to feel alone since we have a lot of female Patients . My Hair Transplant clinics have a wide variety of choices for our Patients , so don't be nervous – with the proper treatment and support, your hair will be transformed to its natural glory! There are several reasons why a woman's hair can fall out.
All of our female Patients hair is restored with satisfaction by us. Our Female Photo-Diode Therapy varies significantly from its male counterpart in that the course would be tailored to female Patients only.
Female and Male Pattern Baldness are also occurring in women, and this can be caused by a variety of hormonal or genetic factors, including but not limited to the following conditions stated below:
Teologen effluvium (temporary shedding of hair)
Trichotellomania Alopecia Areata
Some skin diseases
Iron deficiencies
Hormonal problems and imbalances, such as the onset of menopause, are common.
Underactive thyroid
Vitamin deficiencies
Cancer treatments such as chemotherapy
We will observe a hair consultation periodically to assess and show how the hair is being regenerated through Photo-Diode treatment so that you can see the difference.
We at My Hair Transplant clinics want to get your hair back to its optimum level, with our technical ability we can ensure you are in very safe hands.
Please leave your contact details in the free consultation box and we will be calling you soon .
Free
Consultation
Enter your details and one of our specialists will be in touch with you
Appointment
Book An Appointment